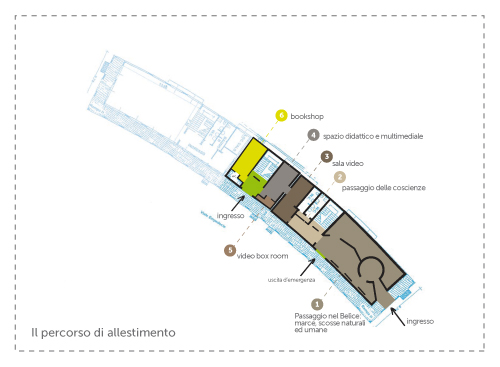 The Belìce/EpiCentre of Living Memory is located at the ground floor of the CRESM (Centre for Social and Economic Research in Southern Italy) headquarters and follows a very exciting and explorative approach in its layout.
A curious visitor might think of it as a starting point from where to organise a personal itinerary across places and landscapes that bear the marks of the passing of time, peoples' movements, and natural disasters.
The layout has taken into account how a specific territory can become interesting again from a cultural viewpoint and for tourism through activities aimed at protecting and enhancing it. Especially if those activities link it to the 'conscience and memory' of the whole population of the Belìce Valley.
In the rooms, visitors will find information, images, documents and reports of those who lived and continue to live in these areas. They will be able to browse the archives of the Study and Initiative Centre to Promote Full Employment, the Study Centre of the Belìce Valley, CRESM, and Danilo Dolci Study Centre for Creative Development (people's planning, establishment of cooperatives, etc.). This centre is expected to become an increasingly lively place so that new 'travellers' coming here, and also or even more so, the inhabitants of this Valley can contribute to make it stay alive by sharing materials or narrative experiences.
The space is divided into sections: past, present and future events of the Belìce area:
1. Passage through Belìce: marches, nature and human shocks.
The years before 1968: from Danilo Dolci's arrival in Sicily to the first people's mobilisations;
The 'Sessantotto' (1968): the nature's first shocks, the cold, the fear of losing one's town and identity;
The years after 1968: cities destroyed, cities reconstructed, utopian cities and the encounter with contemporary art and architecture.
2. Passage through consciences
An ideal journey to discover the faces of famous and less-known people who helped this valley to develop.
3. Video Room
Here, it is possible to discover the Belìce Valley thanks to a wide selection of documentaries and TV shows.
4. Educational and Multimedia Area
Educational explanatory boards, multimedia stations providing information to the travellers can be found here…
5. Moving Voices, Memory, or Autobiographic Memories
Visitors can tell their experience of the place and share useful impressions to raise and keep people's awareness alive. A video-box allows voluntary reports of citizens living in or visiting this Valley to be collected in order to establish an 'Oral Archive of Belìce stories'.