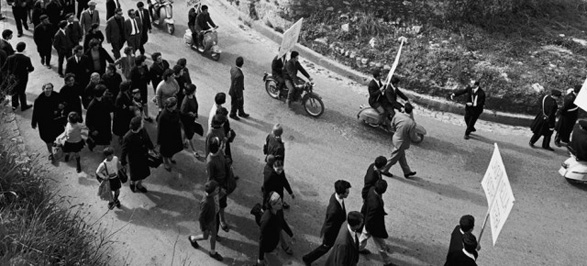 History
1952 – 1954: Danilo Dolci arrives in Trappeto
Danilo Dolci (1924 – 1997) Italian social activist, sociologist, popular educator and poet, better known for his opposition to social exclusion and Mafia, and considered to be one of the protagonists of the non-violence movement in Italy, begins his denunciation actions against the poverty in western Sicily.
1954-1956: the collective fast and the strike backwards
The collective fast on the beach of Trappeto working with the farmers and the fishermen (because if one is unemployed, how can he go on strike if not putting himself to work?).
1956: the trial of Danilo Dolci
The arrest and trial of Dolci and of others three participants in the strike backwards becomes an event followed throughout Italy and abroad. The defender of those arrested was Pietro Calamandrei and the witnesses were people like Norberto Bobbio, Lucio Lombardo Radice, Carlo Levi and others.
1957: congress for full employment – Lenin Prize
The fame of the trial is amplified by a important conference on the Full Employment. Dolci shows at the conference the results of a study, led by young people (among them is Lorenzo Barbera), on the possibilities of full employment in 10 municipalities in the Western Sicily led by young people (among them is Lorenzo Barbera). Dolci wins the Lenin Prize for Peace, 16 million of italian liras, an enormous amount for that time.
1958: first activities of the Center for Studies and Initiatives for Full Employment.
With the prize money are founded the Center for Studies and Initiatives, headquartered in Partinico, and committees in several municipalities led by young planners who are concerned with collecting data on the social situation and listen to people's problems and solutions to help people to self-organize.
1960 – 1963: Lorenzo Barbera goes to Roccamena.
The activities conducted by the Committee in Roccamena will have great influence on the fate of the Belice Valley. In '60 Barbera begins in Roccamena its planner activity which leads to the formation of a city committee for the development of Roccamena and a "Popular Conference on the Development of Roccamena". It begins to emerge the water problem and the need for construction of the dam on the river Jato.
1963 – 1966: the process of popular self-organization in Belice Valley. 
The activities of the Roccamena's Committee infect an ever wider area; The Intercomunal Committee was established, the his newspaper "Pianificazione Sicilia" (="Sicilian Planning") was created and to the mobilization for the dam is also added the fight to abolish the emphyteusis: the "Planning From Below" becomes a method (training seminars were organized for new "local planners"). Through the work of the committees, in 1966 an historical law was approved in Sicily for the redemption emphyteusis.