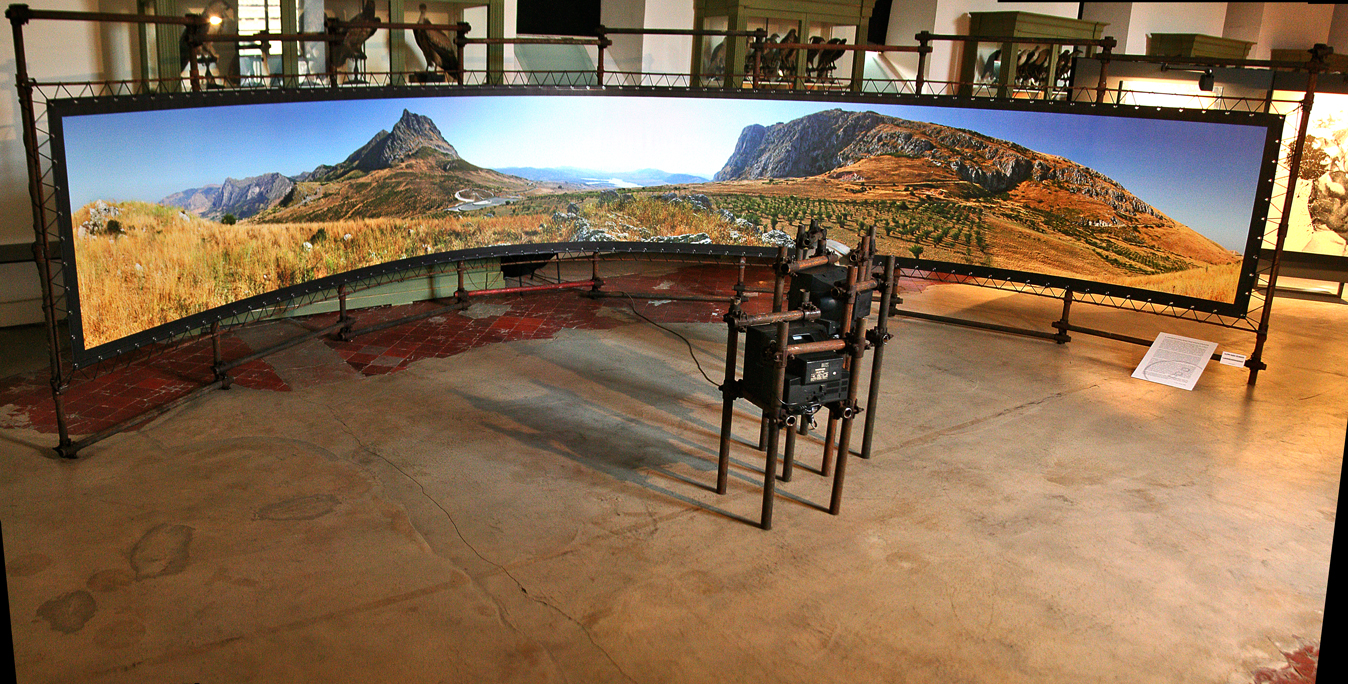 Comparse, 2012, video-installation
In his work Comparse, Filippo Maria Selvaggio captures our eyes and makes us the protagonist of the unsolved tragedy of Portella della Ginestra (Palermo). Two thousand workers, mostly farmers, gathered there to celebrate the 1st of May of 1947 and rally against the large land-estate owners in favour of the occupation of unfarmed land.
There was a massacre that day, when the rounds of automatic rifles fire left eleven people dead on the ground according to the eyewitnesses, nine adults and two children, and twenty-seven wounded. The video Comparse is the second phase of the project called Lamemorianonhadurata [memory does not have an expiry date], which investigates the issue about what is the substantial difference between historical and subjective (experiential) memory.
The first type of memory is linked to the length of the tale, celebration, and document, and it is aimed at certifying that the event actually 'took place'; the second is closely linked to the concept of memory in itself, as the process of reconstructing and experiencing again an event of the past, which is emotionally charged, confined to an individual's life and bound to disappear together with them.
Brief biography
Filippo Maria Selvaggio was born in Brescia in 1980 and spent his childhood and the period of his early artistic education in Sicily. He graduated in Architecture and Design at the 'Filippo Brunelleschi' High School of Arts of Acireale (Sicily). He also graduated in painting at the Academy of Fine Arts of Catania. He worked with photography, video, and lived for a year in Finland, where he studied Performing Arts and Theatre at the University of Keski-Pohjanmaan ammattikorkeakoulu.
In 2006, he returned to Italy and studied music, in particular saxophone, harmony, audio mixing and direction, at the Milan school of Jazz. In 2010, he earned his second-level degree in Cinema and Video Making at the Academy of Fine Arts of Brera. During the same period of time he continued his studies in the field of graphic animation and specialised in web-graphic design.
His inclination to theoretical studies has taken him to Turin where he is currently studying Communication and Promotion of Contemporary Artistic Heritage at the 'Albertina' Academy of Fine Arts. His conceptual works of art result from his reflection about the nature of the image in relation to its support and from an exhaustive analysis of the evolution of the new media languages. His latest works stem from research on some massacres ordered by the State/Mafia that carried out in Sicily over the past century.
Lamemorianonhadurata is the title of a video-installation about the massacre of Portella della Ginestra, which was presented at the exhibition 'Cultura + Libertà = Legalità' (culture + freedom = legality) held at the Regional Museum of Natural Sciences of Turin.